Complete Story

02/02/2018
ONMA sets 'top five' legislative priorities for 2018
By Dennis Hetzel, President and Executive Director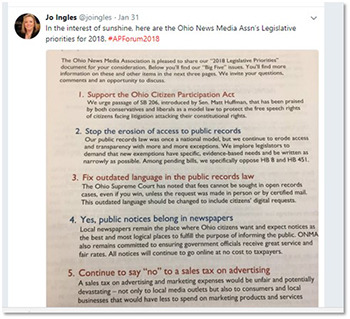 We've prepared a "2018 legislative priorities document" that we're starting to share with state legislators as well as the governor's office and others in the executive branch.
We developed the document through consultation with our Government Relations Committee, our partners at Capitol Consulting in Columbus and the Executive Committee of our Board of Trustees.
I presented the document to the Statehouse press corps earlier this week, and we immediately received notice on Twitter, which has to be worth something. I said we hope they'll write about these issues, because they matter to Ohio citizens as well. Our journalists need statutes that help them do their jobs for the public, and our businesses certainly don't need new laws that would raise expenses or reduce revenue.
We've posted the entire document at www.ohionews.org, or you can find it by clicking here. It includes detailed explanations about not only our "top five" issues but also a number of other items.
In a nutshell, here are the top five:
Support the Ohio Citizen Participation Act, introduced by Sen. Matt Huffman as Senate Bill 206. This would be a model "anti-SLAPP" law, protecting citizens (including journalists) who get sued for simply expressing their First Amendment rights.
Stop erosion of access to public records. Efforts to add new exemptions to the law seem never-ending and often are made with zero evidence that there's a problem that either needs to be solved or existing law doesn't solve already.
Fix outdated language in the public records law. The statute needs to be modernized to give more citizens an opportunity to seek fees if they win a records case. Right now, you can only seek fees if the initial request is made in person or by certified mail.
Public notices belong in newspapers. When we observe what is happening around the country, we think 2018 is a good time to remind Ohio legislators that, yes, notices still belong in print. Our industry continues to push notices into the digital space as well. I urge all our members to read this section of the document as we list detailed reasons that support our position.
Continue to say "no" to a sales tax on advertising. While we don't expect this to be a 2018 issue, governors and legislators across the country continue to see sales-tax expansion as a new revenue stream. We all understand clearly how devastating this would be to not only our industry but also our local businesses and their customers.
Since this document is for Ohio lawmakers, there is no mention of federal issues. I can assure you that we also are paying attention to Congress and federal agencies, particularly the ongoing battle over a tariff on Canadian newsprint. We have told the News Media Alliance and National Newspaper Association that we will do whatever we can to support their lobbying efforts.
As always, we welcome your input. Send email to dhetzel@ohionews.org.