Complete Story

04/11/2022
AdOhio staff are extra sales reps for all ONMA member papers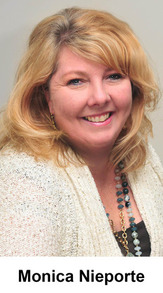 By Monica Nieporte, OMNA President and Executive Director
Did you know that our AdOhio team sold more than $1.2 million into your newspapers in 2021?
Walt, Mitch and Chana on our AdOhio staff work hard each day on behalf of our members and clients to sell advertising into your products. They are part of your sales team and with their colleagues at the other 49 state press associations they have added to your revenue.
In some cases where there are few local ad reps they are the only contact a client has with a representative of your paper. I assure you, they do a fine job of making sure that the client appreciates the value of your audience.
Last year we worked with colleagues in Iowa, Pennsylvania, Indiana, South Carolina, Florida – among others – to place advertising in our members newspapers. Unlike other advertising agencies, we are an extension of your local sales team. Your newspaper pays dues to be part of ONMA and part of the benefits of membership is that your paper receives extra sales help pitching your market.
Yes, AdOhio gets a holdback – which is agreed upon by becoming ONMA members – but you're also getting revenue you very likely wouldn't receive otherwise and the holdback that AdOhio receives goes towards operations of AdOhio continuing to work in your behalf to get you additional revenue.
If it were not for your products and your audience, we have nothing to sell. We don't produce any of our own publications.
To help us better serve you, here is what we ask:
Let us know if our point person at your paper has changed. Time is of the essence in getting insertion orders approved. We asked everyone to send us updated rate cards as we began the year. This is what we are using for quotes. If you didn't send us anything, we are using the last rate card you sent us.
The insertion orders we send to you are seen by clients. Do not write notes to AdOhio staff on the insertion order because the customer will interpret the note to be directed towards them. Call us or send us an email. Keep the insertion orders clean.
Please make sure the ads run. Some of these are very time sensitive and date specific and there is no opportunity for a make good. If an ad doesn't run, it costs your paper revenue, costs AdOhio revenue and creates doubt in the mind of the advertiser about whether we can fulfill the order and/or if newspaper advertising is still a dependable or relevant medium. We don't want an impression out there with the other states that newspapers can't be counted upon to run the ads the advertiser orders or that newspapers are difficult to deal with.
If you have a customer who would like a regional reach in print beyond the newspapers that are part of your own company, call Walt or Mitch and see if they can help you help your customer by adding markets that you can't sell but they can.